TO GET STUFF POSTED HERE JUST EMAIL IT TO US BY CLICKING ON THE
'SEND US AN EMAIL' BUTTON AT TOP RH CORNER OF THIS PAGE or
VISIT OUR FACEBOOK PAGE AND SEND US A MESSAGE or
TWEET US ON TWITTER @ShropUkeMassive

---------------------------------------------------------------------

Tee shirts/Polo shirts/Fleeces/Gilets/Baseball caps etc
are always available from our local printers, Decostitch on the Battlefield Industrial Estate,
phone your order to them on 01743 462265 stating that you want the S.U.M. design,
or visit their website here: decostitch

---------------------------------------------------------------------

UPCOMING S.U.M. GIGS:

---------------------------------------------------------------------

Copthorne Ladies Group have asked us to play at Gains Park Community Hall
on Monday 22nd October 2018 - more details as we get them

please click here to go to the event page

---------------------------------------------------------------------

Withywood, a Residential complex in Greenfields, Shrewsbury, Shropshire, SY1 2PN,
with residents aged from 55 onwards and a sister unit to The Coppice
have asked us back again to play for their residents
on Saturday 3rd November 2018 from 19:00 until 22:00


Once again we will use the whole songbook and get the audience to choose songs ...

please click here to go to the event page

---------------------------------------------------------------------

SUM at Mencap 12th November 2018

We've been asked back once again to play at Mencap on Monday evening 12th November

please click here to go to the event page

---------------------------------------------------------------------

Shrewsbury Market Hall Xmas Lights switch-on 14th November 2018


We have been asked back to play at Shrewsbury Market Hall Xmas Lights switch-on again
- more details as we get them

please click here to go to the event page

---------------------------------------------------------------------

We have been invited to play at Condover Social Club,
Saturday 24th November 2018 - more details closer to the time

please click here to go to the event page

---------------------------------------------------------------------

We've been asked back to play at The Redwoods Centre once again
On Tuesday afternoon 27th November 2018.
- more details closer to the time

please click here to go to the event page

---------------------------------------------------------------------

We have been invited back again to play at The Ironworks Centre, near Oswestry,


Saturday 8th December afternoon from 12:00 to 16:30.
Fuel costs and car sharing can be organised
... this will be another fantastic gig in beautiful surroundings - we'll play 30 minute sets with 30 minute breaks so you'll be able to take a look around and enjoy this amazing

place

please click here to go to the event page

---------------------------------------------------------------------

The Women's Institute have asked us to play for their
Christmas meeting at Peace Memorial Hall in Meole Brace
On Monday the 10th December 2018

please click here to go to the event page

---------------------------------------------------------------------

The Shrewsbury Inner Wheel have asked us back to play at their Xmas meal
as last year's was cancelled due to bad weather ...
On Wednesday the 12th December 2018

please click here to go to the event page

---------------------------------------------------------------------

We have been asked back to The Coppice, a Residential complex in Bicton, Shrewsbury, SY3 8BW, with residents aged from 55 onwards and sister unit to Wythywood

please click here to go to the event page

---------------------------------------------------------------------

The Women's Institute have asked us to play at Prees Village Hall
On Thursday the 11th July 2019 - more details closer to the time

please click here to go to the event page

---------------------------------------------------------------------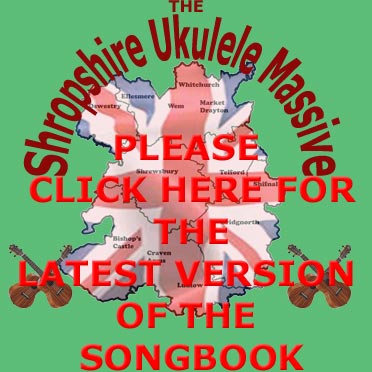 Chili Monster's 7 song EP is now available to stream from Amazon Music -
(If you have Amazon Music Unlimited you can stream it for free, if not you can use the free trial to listen for free, please check it out and share it if you can ...)
------------------------------------------------------------------------------------------------------
THE BELLE V'UKES:
A weekly Ukulele Jam Session held at
THE REABROOK SOCIAL CLUB, SCOTT STREET, SHREWSBURY, SY3 7PX, UK
every sunday evening 19.30 to 21.30.
Players of all abilities welcome. Beginners are very welcome - we will give you tuition and lots of encouragement,
especially if you ply us with beer ...
The Brickaleles Orchestra, which is a free collective orchestra of ukulele players meet at
The Bricklayers Arms in Copthorne, Shrewsbury every Tuesday evening 1900 - 2130.
Players of all ages and abilities are made very welcome from absolute beginners onwards.
Why not come along and join in - click the image below for more info


------------------------------------------------------------------------------------------------------
The Shropshire Strummers meet every week somewhere in Shropshire to share their love of playing the ukulele. Take a look at the calendar. Everyone is welcome including absolute beginners who are usually bashing out a chord or three by the end of the night. Call Adrian on 07904 624357 or join the Mailing List

------------------------------------------------------------------------------------------------------
The Ukey Monster - Lively contemporary ukulele collective based in Ellesmere – featuring vocal harmonies, some Ukey sizzling solos and luscious licks, plus big daddy double bass grooves.
(Click on the image above to go to the relevant facebook page for more info)
The U3A Ukulele Group are a group of players who are all members of the University of the Third Age (or U3A). Most of us have picked up such skills as we have from scratch over the past couple of years.
Our group doesn't have formal tuition, but we have made steady progress together by means of application and mutual inspiration! Our more experienced players do make a point of encouraging and nurturing complete beginners. You can find out more about us by clicking here